PAPHOS GUIDE: A GUIDE TO SCUBA DIVING IN PAPHOS
Paphos, located on the southwestern coast of Cyprus, is a popular destination for scuba diving enthusiasts. The city offers a range of diving opportunities, including shallow reef dives, deep dives, and wreck dives. The water temperature ranges between 16 and 27 degrees, making it suitable for diving throughout the year. The winter months (January to March) are usually warmer by any standard, but you should consider wearing proper thermal protection, especially when doing long dives. Look for plenty of sunshine and blue skies when choosing winter diving days.
There are numerous scuba diving courses and options for renting equipment available, regardless of your level of experience. To ensure a successful and safe diving experience in Paphos, Paphos Guide advises adhering to proper diving etiquette and safety guidelines as well as becoming familiar with the local environment. Check out these dive sites and stay safe!
Table of Contents
The Valley
Just ten minutes from Paphos Harbour, in front of the castle, is The Valley.
Where the rock reef splits in two is where this dive starts! The reef's top is between 12 and 16 meters high and gently slopes down to a sizable sand patch at a depth of 26 meters. You can be sure to see a ton of marine life as you swim along the valley's two sides. Additionally, there are crevasses where you can find moray eels, octopuses, scorpion fish, cardinal fish, and many more creatures!
White Star Wreck
Located 10 minutes away from Paphos Habour, this dive site is great to access your readiness for your diving journey here.
The Russian Black Sea commercial fishing fleet included the White Star, formerly known as Ivana Ivanova. On February 18th, 2007, while being transported to Limassol, she sank as her temporary repairs gradually failed.
The White Star is now scattered across the seafloor, providing a habitat for local marine life. Though the windows and doors are barely standing and cannot be opened, the engines are completely undamaged thanks to holes in the side.
Big Steps
East of Paphos Harbour, on the way to the airport, is Big Steps, where the reef runs parallel to the beach. This dive is a fantastic multilevel dive, starting at 16 meters and gently descending to 28 meters.
A fascinating location that starts in a field of Neptune and Poseidon grass is home to numerous Painted Comber. The zebra print on their bodies and their bright yellow tails make Painted Comber easy to recognize. These fish, one of the few that eat tiny scorpion fish, can get as long as 35 cm! There is a significant sandy area near the bottom of this dive that leads nicely into a small valley. A number of swim-throughs can be found inside this valley, one of which is lined with pink Peyssinelia. At about 16 meters, there is a significant archway as you leave the valley.
Due to its location, lost fishing nets can become entangled in the rocks at Big Steps, so it was also part of a recent cleanup project. To prevent marine life from becoming entangled in nets, we try to clean this site frequently (2–3 times per year).
Bream Bay
This fantastic dive site is a deeper dive, located 5 minutes from Paphos Habour. It consists of a big sandy bottom and two rock ridges on the sides. Start your dive at about 24 meters on top of the rock ridge by descending the anchor line. To the right of the ridge, where you will see overhangs, descend into the sandy area. Dusky groupers lurk beneath the overhangs; however, they are spooky and move quickly. Follow the sandy area until you reach the 28-meter deepest point of the dive. At this point in the dive, you will turn around and start moving back toward the ascent line. We will have the chance to explore the other ridge on the way back.
The abundance of Sea bream, which frequently congregates in schools, is another well-liked aspect of this dive site. The Mediterranean Sea is home to about 16 different species of sea bream, and we were fortunate to find some of the rarest ones at this dive site.
Roman Wall
Right off the coast from Paphos Habour, this dive site is used as a training site by many diving centers. Beginner divers, bubble makers, and snorkelers will all enjoy this dive site. The harbour walls connected to the remaining wall that is still here during the Roman era!
Roman Wall can be accessed from either the beach or a set of stone steps. Inside the breakwater, the depth is about 2 meters when you first step in. The conditions for marine life in this area are exceptional; from May to October, green turtles can be seen grazing. Additionally, you can find trumpetfish, cuttlefish, and octopus in the shallows.
As the sun sets, the Roman Wall comes to life and the still waters come to life! Squid, cuttlefish, and octopus are in great numbers as they venture out to search for food. Greater slipper lobster and Monaco shrimp are frequently found crawling between the rocks around the submerged wall!
Wreck of Vera-K
This dive site is just 10 minutes from Paphos Harbour. Vera-K was a Lebanese freighter that ran aground in 1972 and was later put to use as a target. This led to it being blown up in 1974 because it posed a risk to passing vessels. The bridge is still in its four major sections and is largely unharmed. It is 11 meters deep and completely submerged in a crater.
Since the top of the crater that surrounds the wreck is only 5-7 meters deep, it's perfect for snorkelers and novice divers. Go inside the crater by the bridge and jump in. The entire interior of the bridge, which is starting to slowly collapse, is visible from the back. This wreck's side sections are the ideal habitat for local marine life, such as octopus and cuttlefish. Parrot fish are also widespread and frequently use their two front teeth to rip pieces of the reef apart!
Achilleas Wreck
Achilleas is located just past the lighthouse, 10 minutes from Paphos Harbour. The Greek ship, which sank and exploded in 1975, is currently 12 meters under the surface on a sandy bottom. For those who have completed their Scuba Diver or Open Water course, this wreck is ideal. While the visibility is decreased due to the inability to disturb the sand and rock bottom, it still offers plenty to see.
When it exploded, the wreck was divided into three main pieces. The winch and the bronze propeller on the stern's upturned position are the most well-liked of the three sections. Although the stern is turned up, the side has been broken open to reveal the engine. A variety of marine life, including octopuses, find shelter inside the engine, which is still completely intact. Moray eels frequently hide in the winch section!
Orphurus
All levels of divers will enjoy diving at Orphurus, which is only 15 minutes from Paphos Harbour. This dive site is an adventure around the remaining reef that keeps the Demetrious II stranded, similar to The Shoals.
This dive site looks like a large bowl with a maximum depth is only 8m, making it the ideal location for pictures! The bowl is flooded with natural light, creating stunning rainbow ripples on the rock and seafloor. All of the bowl's edges have overhangs, and any cracks or crevices are filled with encrusting marine life. On the rock ridges, a variety of sea urchins frequently can be seen soaking up the sun. Sea urchins come in over 950 different species and can be found as deep as 5000 meters!
Lofos
Both novice and experienced divers will enjoy this dive site, which is only 15 minutes from the harbor.
The scenic dive site of Lofos, which is Greek for "hill," is built around a pinnacle rock reef. Wherever you are on this "hill," the depth varies, ranging from a minimum of 12 meters to a maximum of 17 meters.
Interesting swim-throughs and tiny caves can be found here for you to explore. Additionally, Lofos has a number of overhangs where vibrantly colored algae and sponges like to grow, providing marine life with covert hiding places.
Lofos is a stunning dive site with interesting rock formations and a rock bottom, making it a great place for divers who are just getting their certification to hone their buoyancy techniques. Tompot blenny fish and Moray eels are frequently seen hiding within the reef. Due to the depth of the reef, wrasse and damselfish frequently seek refuge here. Wrasse is a very inquisitive fish that comes in a variety of stunning colors. This means if you take two rocks and tap them together they will start to gather around you and 'dance'. They can also be seen pursuing divers who have their fins in contact with the floor; they are searching for tiny fireworms to eat as the rocks move.
Amphorae Caves
Due to the shallow reef and island shelter, this dive site attracts all divers and snorkelers.
There are several caves to explore at this dive site that is tucked beneath Moulia Island, and one of them has a roof covered in amphorae. This location, hidden behind the island, provides excellent conditions and calm waters. Keep an eye out for octopus, moray eels, and hermit crabs on the reef wall as you travel there. When you get to the main cave, go inside and look up to see a roof covered in amphorae. Bring your torch so you can see the traditional red clay pottery for the best view.
Wreck of Laboe
The Laboe was constructed in the Rendburg shipyard in 1940. She was initially constructed as a cruise ship and brought to Cyprus in 2006 to serve as a diving liveaboard. As part of the project to create artificial reefs and marine parks, she was sunk in the Moulia, Paphos area in 2014. Marine biologists have been visiting the Laboe on a regular basis since it sank to keep an eye on the species that live there and nearby. They discovered and identified 14 different species of coral in the summer of 2020.
At this dive site, where Laboe is situated on a sand bottom, buoyancy is crucial. The silt bottom's additional benefit is that common stingrays and flounders frequently congregate there. On a few sporadic occasions, eagle rays have also been spotted in this area. Great hermit crabs can be found hiding under the mooring block as well as scurrying around the wreck. This location is particularly well known for Pink Flabellina feeding on the corals and algae in addition to the large fish. At the Laboe, you can get fantastic macro photography shots!
Airport Reef
This lovely reef, which derives its name from Airport Bay, is a component of that bay. There are a number of amazing swim-throughs, chimneys, and gullies along the 200-meter stretch of reef. All types of marine life can hide out in these features, which is ideal. With depths ranging from 3 to 16 meters, two enormous pinnacles create a maze that divers can explore. This dive site is excellent for divers of all levels of certification.
This dive's deepest area is between 12 and 16 meters deep and runs along a sizable sandy patch. Moray eels, Ornate Wrasse, and small Dusky Groupers are commonly spotted in this dive site. If we're lucky, cuttlefish and pearly razorfish may be visible in this sandy area.
The Cynthiana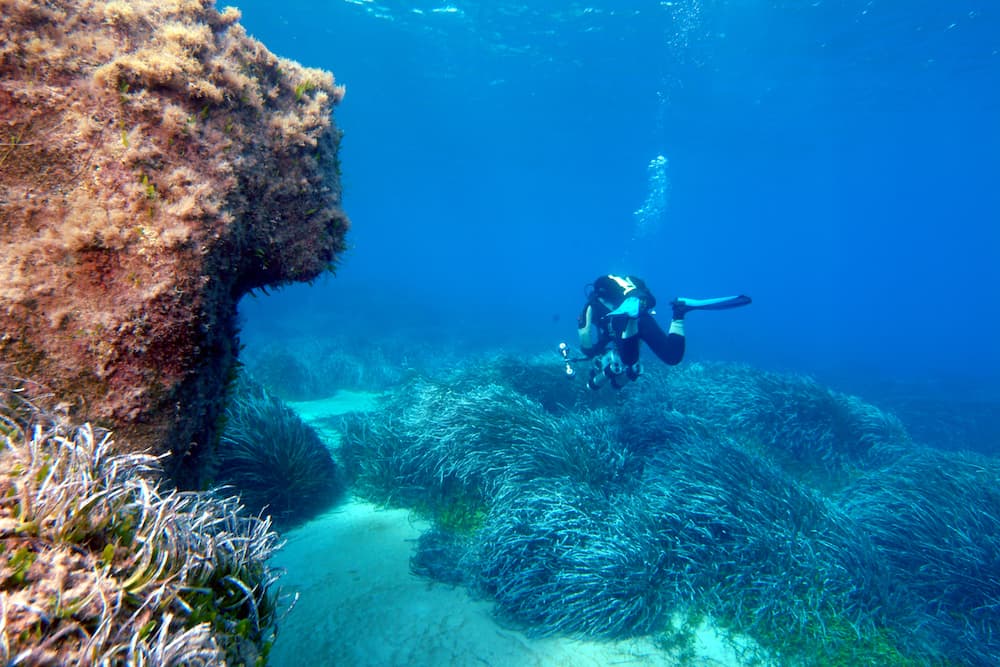 Beginners who want to try diving for the first time or enroll in their introductory Open Water diving session will find the Cynthiana to be a perfect choice. The Cynthiana can also be used as a check dive or to brush up on skills for divers who haven't been underwater in a while.
This fantastic dive site has a variety of dive routes and some of Cyprus' best marine life off the coast. This dive site caters to novice divers, but it also has a lot to offer divers of all levels of experience. There are two large reefs, swim-throughs, gullies, walls, overhangs, and a variety of other features at depths up to 20 meters.
Amphitheatre
Snorkelers can also access the Amphitheatre feature because it is located directly adjacent to the entry point. This feature was produced over thousands of years as the rock face was eroded by tide changes. When you're inside the amphitheater, lie on your back or gaze up at the ceiling for a spectacular light display. You can see the swells forming beneath the island as the waves roll over its top, simulating storm clouds.
Following the first Amphitheatre, there is a stunning valley whose walls rise from the ocean's surface. The enormous sea snails known as Atlantic Triton's Trumpet are frequently found along this wall. The shells can get as big as 45 cm and have amazing patterns and colors. A second amphitheater and a structure known as the stage are located further along this dive site. The stage is a carved stone feature with a skylight-like vertical opening.
Geronisos Island
Geronisos island, also referred to as St. George Island, positioned only a short distance from St George Harbour in the Paphos neighborhood of Pegia, is unquestionably more adventurous.
The entrance to a sizable swim-through is concealed between the rocks on a 12 m-high ridge where you can descend. Since the reef in this location is made of volcanic rock, small bubbles will erupt from the reef after the first diver has passed through. For the more adventurous divers enter into the darkness and see the walls open up in front of you. This is not a diving site for the faint of heart because of the twists and turns! At 18 meters from a crack in the reef, exit this 30-meter swim through. Start making your way toward the bottom ridge, where you can frequently see dotted nudibranchs eating sea sponges. The amount of color on the reef will astound you once you get to the bottom ridge at 35 meters. With your torch on, pink, purple, and orange algae and sponges light up this ridge.
Manijin island
Manijin Island is a small island in the Pegia region of Paphos, and is often partnered with Geronisos Island.
Start this dive by swimming leisurely along the island wall until you reach the 18-meter-deep sandy patch. Amazing patterns and colors are created in the sand by the island wall hanging over the sandy area. Swim through at 12 meters and emerge at 8 meters on top of the reef. The Peyssonnelia algae in this swim-through has produced a variety of pink hues and lights.
There is a huge bowl feature at the bottom of this website! This was likely just an air bubble in the rock at first, but eventually, the roof collapsed, forming the bowl. Swim all around the overhangs as you enter the bowl through an archway. There is a blowhole for exit, and swimming over the island reef creates the effect of a champagne cork shooting you out the top. At this dive site, the last swim-through is located at the start. This one will take you inside the island reef and is much longer and thinner.
Sea Caves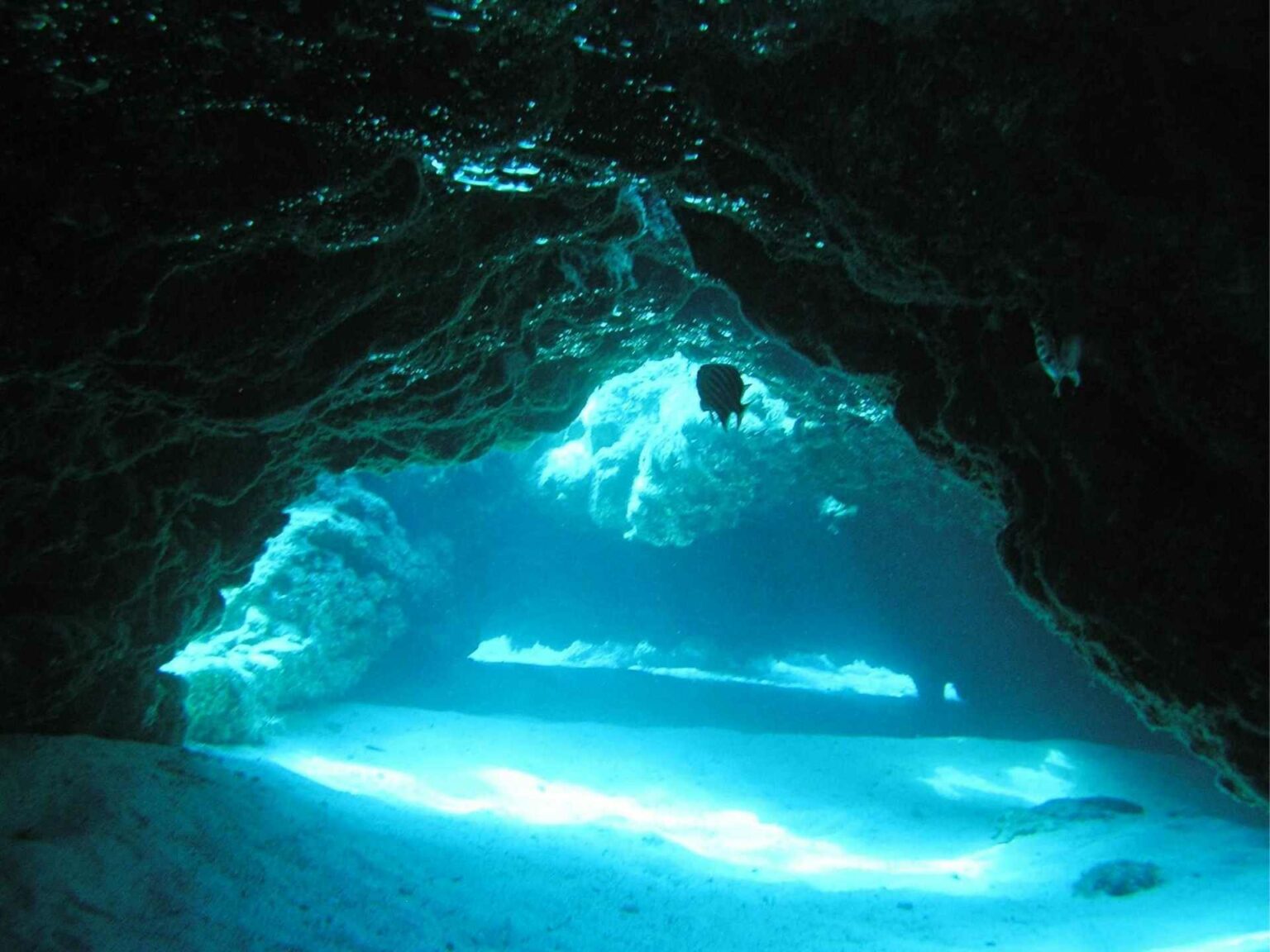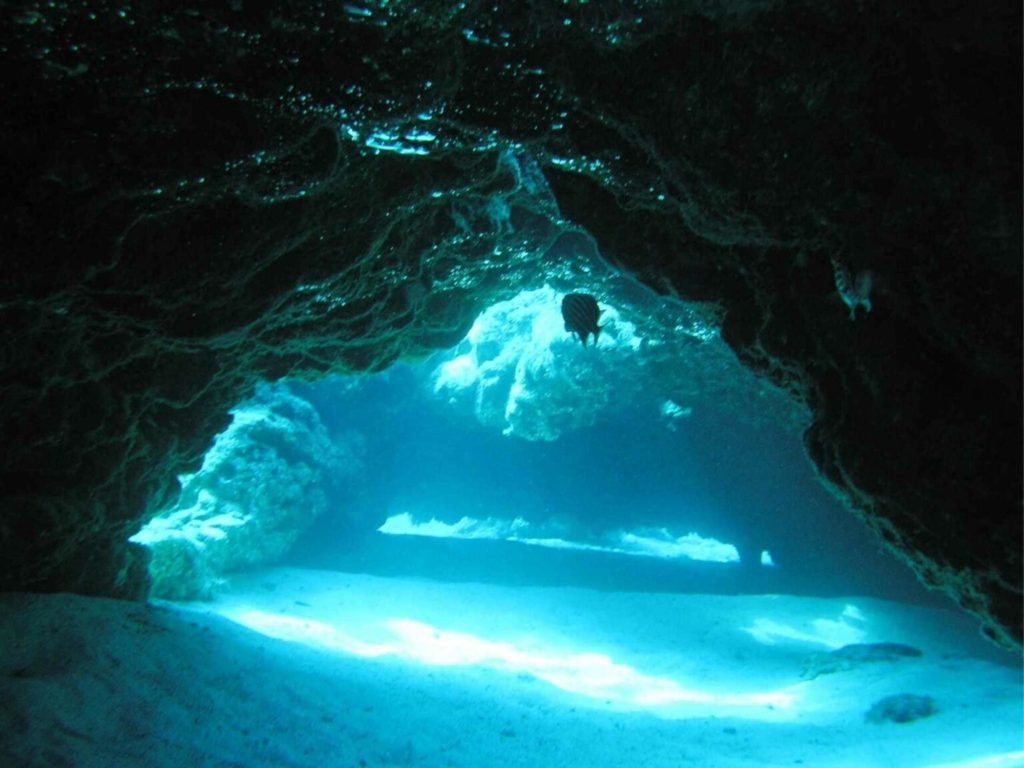 Sea Caves is a fantastic dive site with more caves than you could possibly imagine. It is located in a stunning area. With a depth range of 3 to 12 meters, this dive is among our shallowest ones and can be done either from the shore or from the boat.
A rock reef located between three and eight meters deep serves as the dive's anchor point. From there, you will travel directly out to sea in the direction of the swim-throughs. An incredible network of swim-throughs and gullies is one of this dive site's most intriguing features. The entrance to another cave is actually concealed inside one of the largest caverns because it is so large. The second hidden cave has a huge open exit, so descend through a hole in the floor to find it. You will see another entrance to a tunnel with a sandy bottom as you turn around and look back towards the shore as you leave the large cave.
White River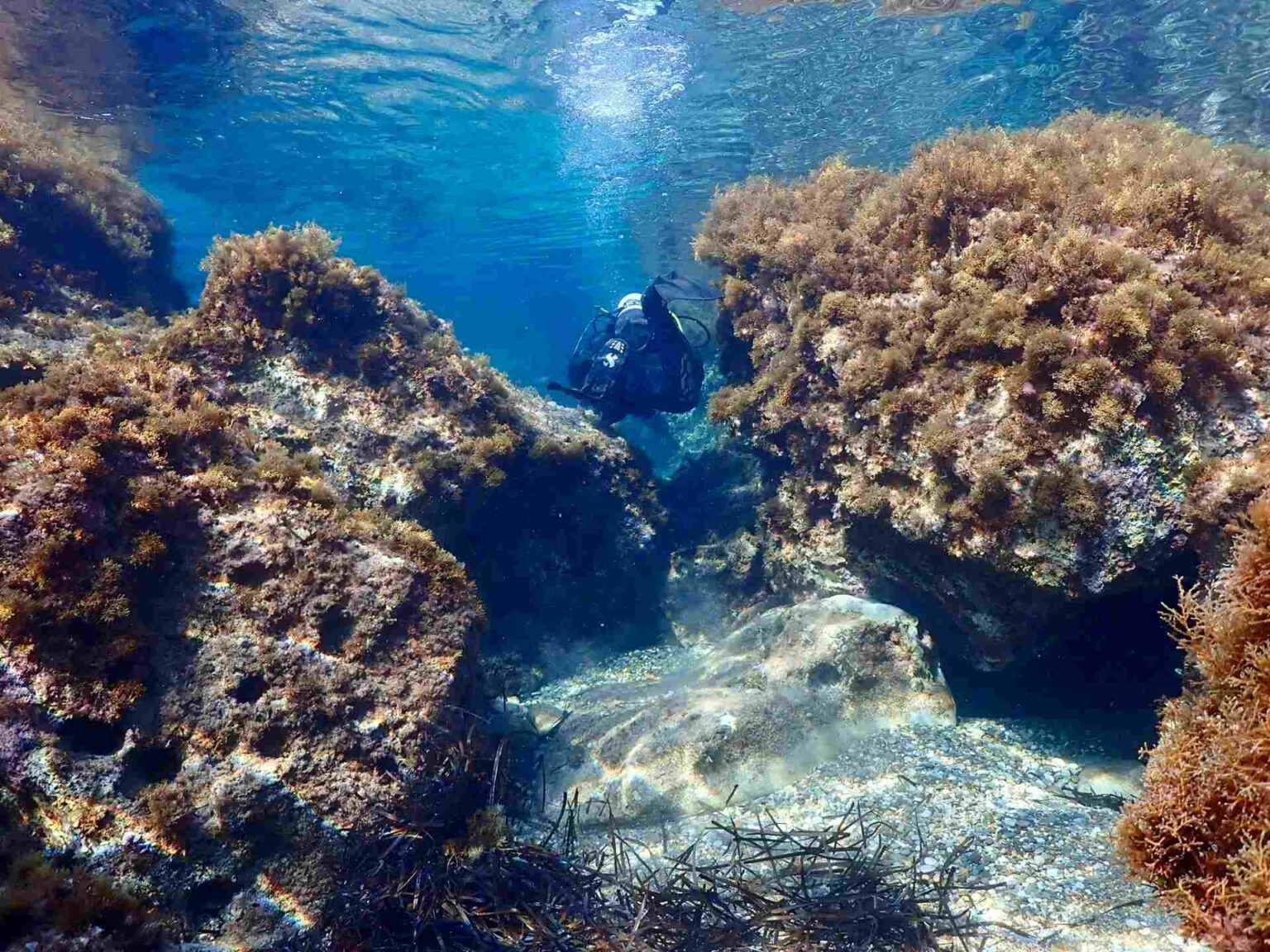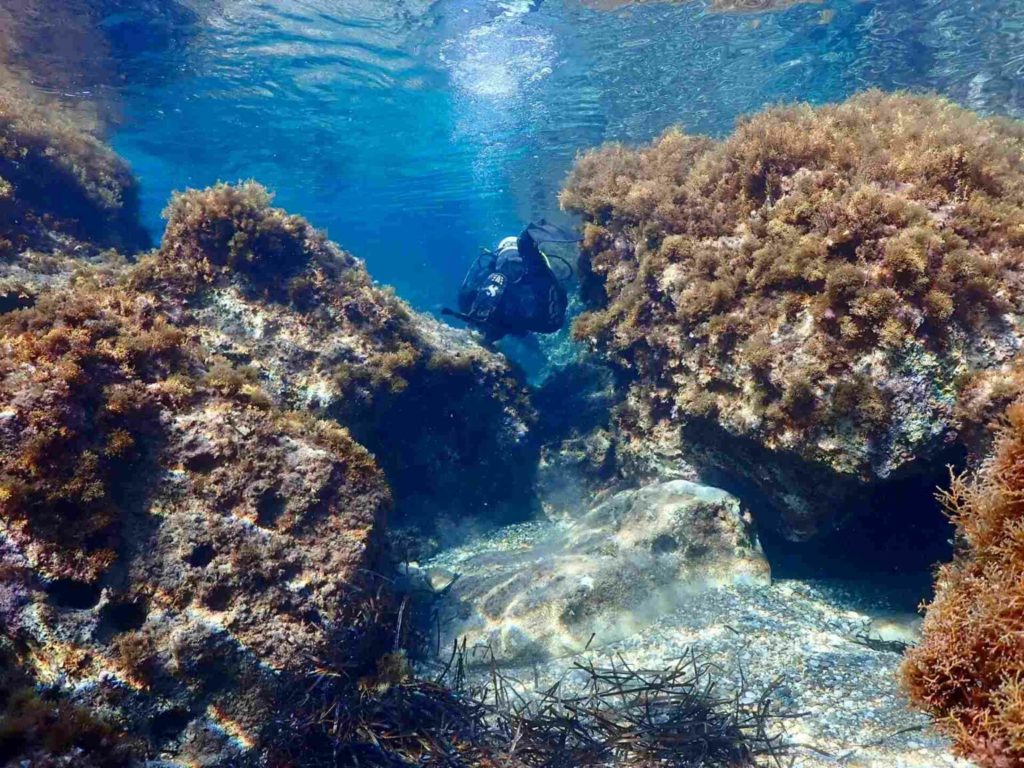 White River is a small cove near the Akamas Peninsula that provides access to a fascinating network of gullies, overhangs, and stunning swim-throughs. One of the swim-throughs stretches out over 25 meters, making it a truly breathtaking experience. Enjoy the beauty of the underwater world as you listen to the waves rolling up the pebbles onto the beach.
As the waves gently lap against the beach, walk into the water to start this spectacular dive. Admire the marine life that lives in the tiny crevices and holes in the cliff wall as you walk along it. Once you have followed the wall, you will be surrounded by stunningly curved rocks that have been shaped over time by boulders that have rolled in the river. This dive site has a fantastic swim through that is 30 meters long. If you venture into the canyon, you will be surrounded by pinks, purples, and oranges. This swim-through, which is only 5 meters deep, is illuminated by natural light, making it the ideal location for pictures. This dive's maximum depth is about 12 meters.
Palloura
A great deep dive that is frequently used for technical training is Palloura, which is only 10 minutes from the harbor.
At 16 meters, the pinnacle dive site starts to drop off toward the ocean floor. dive down to the seafloor at a depth of 40 to 45 meters if you have a deep certification. A ridge with overhangs begins to follow along the base of the pinnacle once you reach 30 meters. All over the pinnacle, you'll find little crevices and gullies that conceal a variety of marine life. The marine life in this area includes large groupers, loggerhead turtles, and macro nudibranchs.
The corals and algae that cover this reef appear blue or grey to the unaided eye but come alive with color when illuminated by your torch! There are large schools of young, smaller fish as you start to corkscrew your way up this pinnacle. Up to six different species of sea bream, including rear Zebra Bream, can be found at this dive site. Additionally, painted comber, dusky grouper, and mottled grouper.